Two different sets of glorious fantasy art popped up on my RSS reader this morning that simply must be seen.
Dave McKean's Fantasy Art Stamps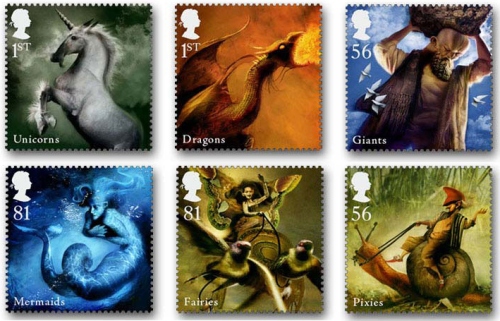 Dave McKean is a fantastic artists, often working in mixed media where photographs, sculptures and art are combined. He may be best known for his colaberation with Neil Gamin, producing the art work for many of Gamin's one off graphic novels as well as the covers to many issues of Sandman. McKean has also done cover art work for numerous CDs and books.
This collection for the UK post office will be available soon. Source: Dave McKean Stamps
SF & Historical Art
I cannot tell you anything about this artist because my source is in Russian (I think). A lot of their art is not strictly fantasy but imagined historical art, from Greek sea battles to modern day Iraq. Scatted in there are some great SF art and images like the one above, that have a subtle menace to them. Click through because they are well worth a look.