In this week's 6d6 Open Business Meeting we apply some of the research from the last few weeks on to our own web site.
The six key concepts the team having been looking at are: Reciprocity, Scarcity, Authority, Consistency, Liking, Consensus. See this page & video for more details.
At the time of the video, this is what the page looked like.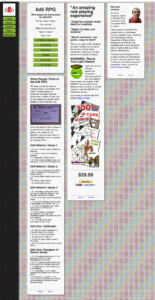 In the meeting (see the video at the bottom) we go through each of the six concepts and see how it applies to our home page:
Reciprocity – The signature gives good personal promise implications.
Scarcity – There is a little bit of scarcity in the advert: last chance as the head of the article; countdown to encourage the feeling of time running out. It is difficult to increase scarcity, there is a risk of the perpetual closing down sale.
Authority – The photo of Chris gives a professional look but the photo of the feedback card looks naff. The page has Strong bold text and references the success. It is lacking external reviews.
Consistency – There is no gateway product to start the process. Maybe add a video to introduction the company or a very fast video to introduce the game
Liking – The hello and welcome article with picture adds a face to company. The front page needs more of the ongoing story of 6d6, e.g. blog posts and links to the business meetings to make the front page seem more dynamic. No reference to the shared values of 6d6 / customer, e.g. creative commons and living document.
Consensus – There are lots and lots and lots of quotes from people, about half of the page and including one major feature article.
General Comments – bin the "6d6 RPG" headline, pay attention to the length of the articles and make them more equal.