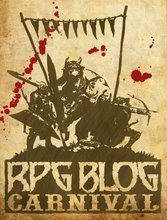 Part of RPG Bloggers Carnival, hosted by Chgowiz
Flash games as in Flash Mobs.
Watching technology change the way we behave is fascinating hobby and I what has really got my attention at the moment is Twitter. It seems such a pointless technology. In an age when we can download the entirety of the Encyclopedia Britannica in minutes, why would we limit ourselves to messages of just 140 characters? And yet this very limit actually makes it a better tool because it becomes focused on short, transient information. Exactly the sort of information you need at a convention and exactly what you need to organise a game on the fly.
Twitterfall – All Conventions Need It
My first exposure to how effective Twitter can be at a convention was in May at Ploktacon 4.0, a science fiction convention. The folks behind Plokta have always been keen on the cutting edge technology so it was no surprise to see a big screen projector set-up showing Twitterfall tracking the convention's hash tag. Suddenly there was a great way for people to pass on information – reviews of local restaurants, feedback on talks as the talk was progressing, and all the normal convention bar gossip but spread faster and wider. Despite the fact the only a tenth of the people there had Twitter and suitable technology to tweet on the move, it became a great tool for spreading news.
For Good and Bad
A few weeks later I was at the Glastonbury festival for a weekend of watching great bands in the sun and the rain. One of the challenges of Gastonbury is the shear scale of the event – At 175,000 people, it would be the 125th largest city in the USA, only slightly smaller than Salt Lake City, and all of this appears and disappears within five days. Twitter is the ideal tool for this environment as all the information you need, e.g. weather forecasts and changes to the line up, can be sent in short and transient packets.
Because a festival is outdoors not that many people had technology with them to use Twitter. In a festival environment, it really has to be on your phone which meant that only a few people were using it this year. But Twitter, like Facebook and other social media, is becoming a standard feature on phones and next year, or may be the year after, it will reach critical mass and Twitter will become a genuinely useful tool but that posses a real problem.
Bruce Springsteen headlined this year's festival and attracted an audience of 50,000 or more on Saturday night. However, almost none of those people saw him play with another band in a small tent during the afternoon. Only those people lucky enough to be there got to see this one-off performance. Now imagine a festival full of Twitter users. The moment Bruce took to the stage, word would spread and a flash mob would form. That small tent would of been swamped and put those inside in real danger. How we deal with these unplanned flash mobs is going to be a challenge to all event organisers.</p
Flash Games – The Future of Convention Gaming?
I wish I could of gone to Gencon this year just to see how Twitter was being used. From reading the #Gencon Twitterfall over the weekend, it seemed to be on the verge becoming the must have tool for the weekend but Twitter seems to offer much more. With the right hash tags and a bit of software like Twitterfall, finding players or a game should become easier and quicker.
What to run a game? – Send a tweet saying where you are and what you are running. Sitting in the bar with nothing to do? Check the Twitterfall to see what is happening nearby. A big fan of an obscure game? Simply look for the relevant hash tag and find the other half dozen people interested in playing it.
Whilst Twitter can never replace the traditional sign-up process for some games, it does offer great opportunities for more ad-hoc gaming. A smart event organiser can even integrate it into the convention. The Twitter API is easy to work with and a specialized version of Twitterfall could be created with just a few hours work. Add a few big screens into the main concourse and suddenly even the non-Twitterers are included.
Instant communication is not without its hazards, bad information can travel just as fast as good information, and there will be mistakes made. Yet Twitter offers a wonderful opportunity to all types of events and especially games conventions.